A notification is an alert that appears outside of your app's user interface to deliver appointments, conversations, or any other information delivered on time from your app to the user. Users may access your application or undertake action immediately from the notice by tapping it.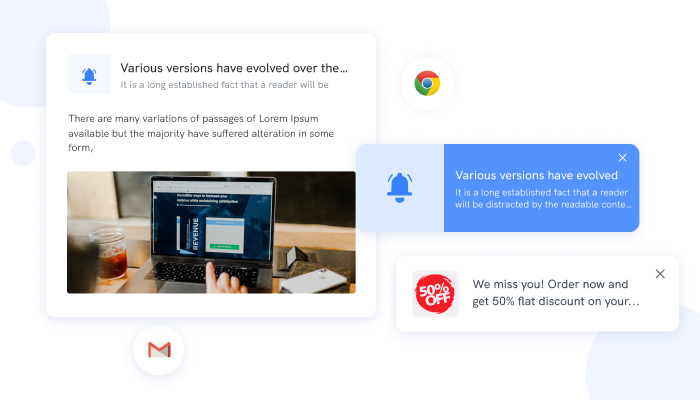 What Are Push Notifications
App-based businesses may rely significantly on push notifications to engage users. Push notifications are one-sided, brief texts sent by a mobile app to give prompt, necessary information that motivates the subscriber to launch the app. Push notifications are useful for attracting users to access an app regularly once installed.
Push notifications are pop-up messages that can be clicked on. They can display on your users' browsers regardless of the device or browser they're using. They function as a rapid communication route for businesses to transmit information, discounts, or other content to their clients. People that subscribed can be on whatever platform on the web and still receive these notifications as long as they are connected to the internet or have their browsers open on their devices.
This digital marketing channel, which debuted in 2009, is younger than most others. Despite gaining tremendous traction recently, a massive disparity still exists between the execution of this newer technique and others. For example, marketers are still figuring out how to employ push notifications, but they've discovered that they do improve trips back, subscriber loyalty, and re-engagement.
Statistics show that not only are push alerts reaching consumers numerous times a day but that most people can't seem to put their devices down. This means that mobile marketers can and should use push notifications to increase engagement and retention.
Types Of Push Notifications
There are push alerts built for that device or platform, whether you're in an internet browser or using your wearable gadget. Here are four sorts of push notifications to use in your next campaign.
1. Push notifications from a mobile app: Produced by an app installed on a user's mobile device. The lock screen, the banner, and the notification center are all where you'll see it.
2. Web push notifications: These are alerts that are provided to users via desktop or mobile web and appear at the top or bottom right-hand side of the desktop or mobile screen.
3. Desktop push notifications: These display solely on a user's desktop and are generally activated by software installed on a computer.
4. Push notifications on wearable devices: Alerts displayed on a wearable device that is synchronized with notifications displayed on a mobile device.
Benefits Of Push Notifications
Third-party applications provide mobile devices with plain text or multimedia messages as push notifications. As a result, both mobile advertisers and smartphone consumers benefit from push notifications in a variety of ways.
1. Reach out to audiences when and where they want.
Want to offer your readers real-time alerts about breaking news, hot articles, or freshly introduced products? Push both publishers and advertising may use notifications to improve user experience.
2. Provide carefully selected material to users.
Push notifications, like email, are direct-to-consumer and tailored to each user's preferences and activities.
3. Increase visitors to your website.
Ultimately, you'll want your push notifications to entice consumers to return to your website or mobile app and engage with your content again.
4. Increase income by monetizing
The advantages of push alerts extend beyond simply increasing organic engagement. They may also be an effective monetization technique for raising income and offering value to ad partners.
How To Get Push Notifications
Push notifications enable you to communicate with visitors after they have left your site. For example, you may offer targeted messages to encourage them to return, resulting in increased traffic, conversions, and purchases.
But, what is the most effective technique to send push notifications? We'll go through the finest push notification options for your website.
pushninja.com
This is the software for push notifications that can be utilized for your website. Using advanced automation, you can engage consumers by utilizing a visual designer to create intuitive push messages, perform drip campaigns, and analyze user activity data.
For effective involvement, pushninja.com allows you to use event triggers such as shopping cart abandonment, the addition of a new blog, and many more. It enables you to develop successful win-back communication strategies at any moment.
Increase the number of people that visit your website and increase your revenue.
Increase page views by engaging visitors with tailored push notifications. Increase revenue by using reliable and efficient marketing.