5 Ways to Decide the Best Push Notification Provider
Adopting the best push notification provider for your business would really be beneficial for your marketing efforts. Here are the ways to decide the same.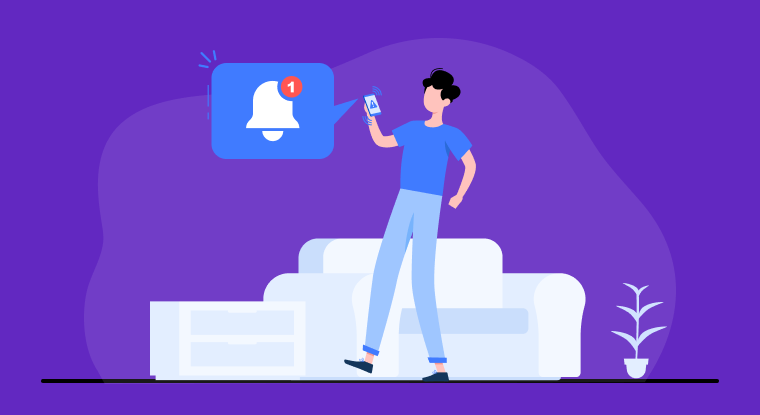 Are you wondering how best to get your customers aware of your latest products and services? Use Push Notifications.
The traditional method of communicating this awareness is through text messages. However, due to the need to catch customer's attention as soon as possible, text messages have proved less effective. Auto messaging has proven to be a nuisance to many customers; most customers sweep unsolicited messages into spam folders and block future notifications.
""""Always make the audience suffer as much as possible."""" ~ Alfred Hitchcock
Push notification services are effective networking tools for any business with a mobile app. With Push Notification services, you engage your customers and avoid ending up in the spam folder. Also, your customers have little choice in avoiding push notifications, and the notifications appear irrespective. As far as the push notification option is allowed, receivers cannot avoid seeing them. A push notification is an automated message sent by an app to a user even when the app is closed. In simple terms, it is a message sent directly to your customer's phone. These messages can appear on a lock screen or in the drop-down panel of the device. Most importantly, Push notifications nudge your customers to take action and they—push notifications—must be clickable.
Why Use Push Notifications?
For your business, it is more convenient to use push notifications services than text messages. Although text messages allow up to 160 alphanumeric characters, reading incessant SMS bore clients out. There is a chance your customer won't open the next SMS from your business. Push notification tools send brief messages or alerts that get pushed to your client's phone through a pre-installed application. Proper push notification should be less than 40 words. Therefore, your customers have a better chance of responding to them.
Also, With Push notifications, your clients need not visit their inboxes. Recipients see your message immediately when they pick up the phone, even if the application is not active. A suitable push notification providers sends push messages without requiring the receiver to download any added application. Finally, Push Notifications are easy to implement. You simply get your message across, and you walk on. With push notification tools, you are sure that your message gets delivered with little or no discomfort to your clients. No internal memory needs to be erased after push notifications are delivered, and receivers can react to it.
Push notifications have better effects than text messages; they offer a better click-through rate and direct your customers exactly where you want them. Your clients know the messages are from you, and they know what to expect.
5 Ways to Decide a Push Notification Provider for Your Business
To improve your marketing effectiveness, communication with your customers is important. Having explained why you need effective push notification services, your business needs one. However, there are lots of push notification providers on the market. To get the best service, you need to know what you are looking for. Here are five ways to decide the best push notifications providers for your business:
1. Location-Based Feature
The service provider must be able to communicate the locations of customers. If you are into the e-commerce industry, you should strongly consider this. This feature is important because it enables you to target customers in a particular area. If a client is outside the reach of an offer, pushing notifications to them would be needless, and the cost of sending the notification would be a waste. Hence, the push notification tool must be able to deliver relevant messages at exactly the right time.
Geofencing is a virtual perimeter placed around a physical space. The push notification providers must geofence by creating point and radius or polygon geofences to reach customers within the areas of interest. For example, when customers are close to a store, the push notification should be able to end a customized push or coupon to customers. Also, the tool must be able to use beacons for accurate proximity marketing, like the Bluetooth beacons. This is important for hyper-location messaging. With beacon synching push, the push notification tool will understand the receiver's proximity to specific locations. When a customer exits or enters the fence, the push notification tool must be able to send messages or notify you.
2. Trigger Mobile Push Notification
You should be able to create personalized content, add images and interactive buttons to your mobile push notifications to increase engagements. When visitors visit the app, app push notifications are activated to perform a specific action. E.g. when a user leaves a checkout page without completing the purchase, a cart notification shows at the top of the page. The message naturally would ask the user to return to the checkout page to complete the purchase, and a link to the checkout page is included. The push notification should further enhance your messages by adding images of promos, discounts, and related products based on the customer's history and past visits.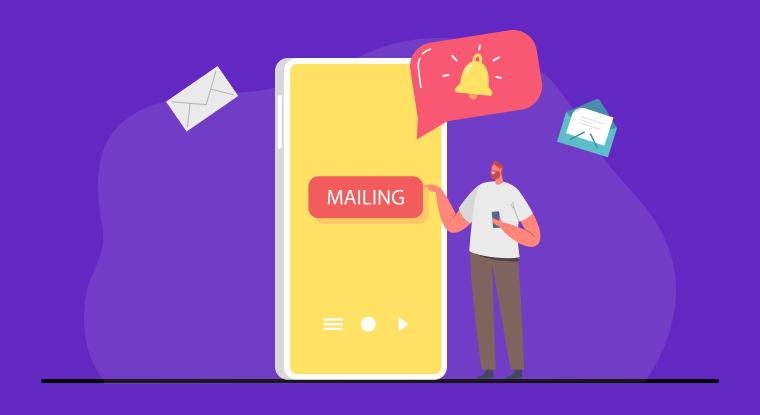 Also, you should be able to set triggers within the custom notifications too.. Triggers are not limited to being activated only when a person closes the app, and you can set triggers when a specific user visits a page several times. You can set a requirement for the specific type of visitor, and the tool automatically sends a notification when the requirement is satisfied. Initiating trigger push notifications empowers your users or visitors to complete tasks, increasing conversion and boosting your sales. You will want to have this feature at your disposal.
3. A/B Testing
If you are to create the best push notification messages, you need to be able to measure and analyze metrics that matter. These metrics include open/click rate, conversion rate, click-through conversion rate, revenue from conversion and cost to send. These help you evaluate your marketing campaign's performance and, ultimately, the effectiveness of your messages.
The push notification tool should utilize A/B testing to help you look for ways to get the best results from your campaigns through experimentation. With A/B testing, you can work through several ideas for your campaigns. You can experiment with two or more creative ideas on real-time users. You can use different features during each test campaign like wording, buttons, colour and images. On completion, you can analyze the results from the test campaign to understand how each strategy is proving effective and why. Furthermore, the A/B testing will help you recognize the best combination to produce the maximum yield for your marketing. For example, Test Campaign A proves to have a better open/click rate, and Test Campaign B has a better conversion rate. Features that resulted in each yield can be combined for maximum marketing results.
4. Automation and Scheduling
An effective push notification service must allow for automation. This feature enables timely interactions that keep your customers coming back. With the proper automation, the push notification tool lets you reach the right user at exactly the right time. You should be able to create intelligent onboarding campaigns that will improve retention and conversions. Also, the tool should have in-app events that can trigger related customized messages. The push notification tool must be able to use funnels to measure conversion and reduce drop-off with automated messaging campaigns.
Scheduling allows marketers to create a push notification and get it delivered to audience at a later date. This feature enables you to schedule multiple or recurring notifications, so you do not have to be present to send the messages in real-time.
5. User Segmentation
The user segmentation feature enables a push notification tool to segment audiences based on certain criteria. It is impossible to expect great results from sending the same push notification to all customers or subscribers. It's like shooting into the sea and hoping to kill a herring. You'll end up wasting both time and resources.
The best push notification providers should effectively segment and group your customers based on their predispositions or actions. For example, your receivers can be grouped by their geographical location, device type, site actions, subscription date, etc. Grouping users helps you filter your audience and understand the best content for each crop of users and the best content they relate with. This feature will enable you to create personalized content and notifications in ways that prompt users to respond or react in a way you want them to.
PushNinja by 500apps
PushNinja is a push notification software that answers all your questions. 500apps designed the software to engage your customers by creating intuitive push messages. The tool uses visual designers, running drip campaigns, user behaviour data analysis through powerful automation.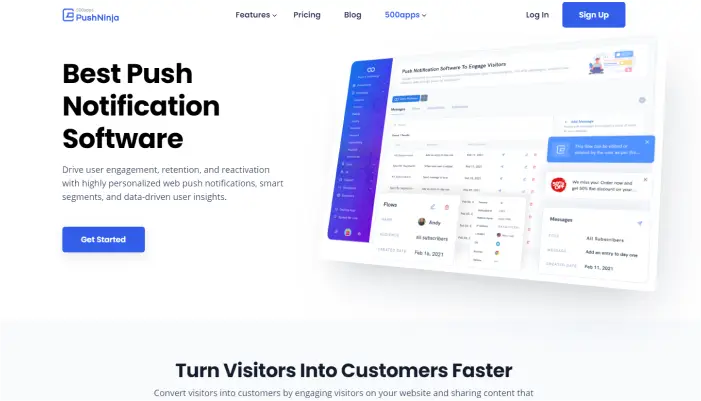 With PushNinja, you get to personalize your push notifications with unique messages and experience scale conversions faster. The software helps you build effective campaigns that are based on customer behaviour and serve what customers want to consume. You will engage your customers on a whole new level with PushNinja.
PushNinja comes with an excellent pricing option. You can opt for the traditional monthly or yearly pricing plan or take up the combo option. With the combo option, you can unlock over 39 apps for your business at just $14.99.
Conclusion
Businesses use push notifications to bring back inactive users and can considerably increase the retention rate of customers. You can use push notifications to send users personalized offers, discounts, reminders, and news on the app. If implemented correctly with a push notification tool, push notifications can increase revenue, improve audience relationships, and bring users back into the business's mobile app.
A push notification statistics from the study by Localytics reveals a rise of engagement in push notifications from 2.75% in January 2017 to about 30% in April 2018. People engage more with push notifications against unsolicited SMS. Push notifications are precise, catchy, and from a trusted source. It is essential to find the right push notification provider; however, finding the right balance in timing, frequency, and delivery is the key to a successful marketing strategy.
#1
Access Multiple Websites
#2
Drip Sequence Automation
#3
Create messages, notifications, reminders using built-in templates
#4
Increased Visitor Traffic
#5
Effective Audience Classification
#6
Scheduled and Automated Messages
#7
Extensive Data Analysis
#9
Unbelievable pricing - the lowest you will ever find
#10
Everything your business needs - 50 apps, 24/5 support and 99.95% uptime
Join the SaaS Revolution
All-in-One Suite of 50 apps

Unbelievable pricing - ₹999/user

24/5 Chat, Phone and Email Support