5 Creative Apps To Use for Android Push Notifications
Use In-App Messaging & Push Notifications to Reengage Users & Increase Loyalty. You may create your own message plan in just a few minutes.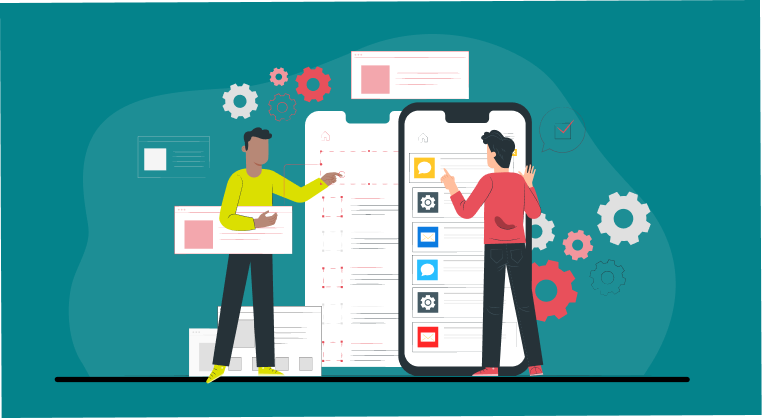 Android Push notifications might be challenging to use. Mobile marketers must first persuade customers to consent to receive push alerts. The next step is for them to consistently send notifications that are helpful to their users.
These statistics are: - Only 60% of Android users and 45% of iPhone users choose to receive notifications and alerts. - US smartphones typically receive 45.9 push alerts each day. - Due to numerous advertising or notifications, over 30% of users delete an application. - Only 2.25% of push notification messages are opened on average across all verticals.
Android push notifications must be unique and useful if you want to keep people engaged. You have a very tiny window of opportunity to provide value to your users through push.
Android push Notifications: What Are They?
You can send an alert or notification to a user's smartphone asking them to carry out a specific activity like how a user may receive a text message or email notification.
Before being delivered to the notification center, where users can view and interact with it at their leisure, this notification normally shows at the top of the screen for a brief period.
Without push messages, apps would only be able to notify users of things like app updates, reminders, and limited-time offers through in-app messages, SMS text messages, or emails. Android push notifications are crucial to the success of your app since they provide a dependable and integrated method of interacting with consumers.
Even if the recipient is temporarily offline, android push notifications can be successfully delivered to them using the logic of any complexity. This is because major operating systems used by the devices, such as Apple Push Notification Service, handle push notifications (APNS).
How can android push notifications be used creatively?
Here are five tested ideas to use when creating a successful push notification campaign:
1. Customized shipping notification
One of the most popular applications for android push notifications is shipment notifications, as was already noted. They meet the criteria for what a good push notification should be: they are clear, concise, informative, and helpful. But they're also a little boring.
It's a shipment notification, of course, it's boring, you might be thinking. Even if it's true that giving someone a tracking number and shipment date is typically not very interesting, it doesn't imply that's how it has to be.
For select purchases, Amazon, for instance, sends out custom notifications. For instance, you might get a notification like this when you acquire Star Wars items: ""Your home in the galaxy is on its way! DVDs of Star Wars have been sent and will show up on Tuesday."" This may seem like a small adjustment, but it may go a long way toward personalizing and enhancing the impact of your push alerts.
2. Incorporate a user's location
Due to an increased focus on user privacy over the past several years, particularly on iOS, where it is becoming more and more challenging for apps to utilize a person's location, location-based notifications have gotten a little more challenging to implement.
Having said that, it can be very beneficial when a location-based notification is done correctly. One of the most common forms of notifications that consumers seek, according to research by Localytics, is location-based android push notifications, which were requested by 34% of users surveyed.
These notifications, which are all prompted by a user's location, allow users to discover new restaurants more easily, receive special discounts when they are close to a store and much more.
3. Users should be able to finish tasks from your notifications.
20% of users in that same Localytics survey perceived android push notifications as a means to increase their productivity by interacting with apps without opening them, the researchers discovered.
This is an excellent approach for many apps to make the most of android push notifications and to play to their advantage. Users can long-press on notice on iOS, for instance, to display more options. This might be handy for quickly directing users to the page for adding a new meal in a meal tracking software; in a timer app, it might allow you to reset or snooze a timer without opening the program. Android push notifications can be utilized to host brief user interactions.
4. Continue from where you left off!
Some applications, like RunKeeper, adopt a somewhat different strategy. RunKeeper, an app for tracking running, encourages users to run more by using the data it collects from them, which encourages them to use the app more frequently.
The running software accomplishes this by alerting users when it has been some time since their previous run and reminding them that they ran around the same time last week, acting as both a motivator and a reminder at once. By reminding consumers that they were reading something or that they still have something in their shopping cart, other apps can use this concept.
5. Time-sensitive notifications
Not least among these are time-sensitive notifications. The majority of notifications are delivered at specific times, but not enough are sent at important moments. For instance, it would be better for sleep tracking software to deliver notifications thirty minutes before a person's bedtime rather than at two in the afternoon.
The same concept can be applied by apps that order food, provide notifications during mealtimes, track employee productivity, send notifications at the start and conclusion of a workday, and more.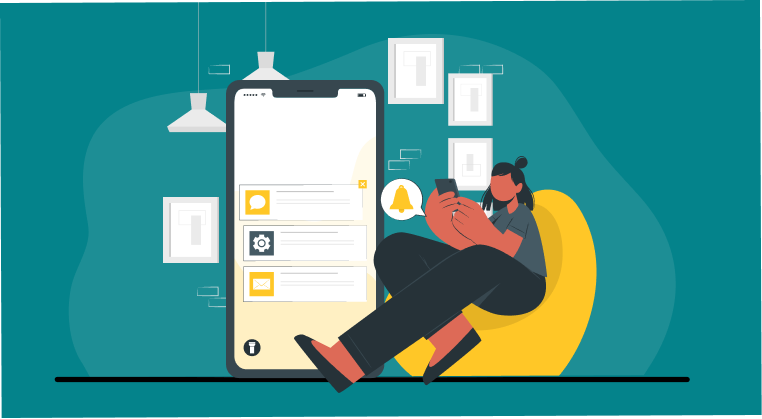 5 Creative Apps to use for Push Notifications
To assist you in selecting the finest push notification tool and service for you, we've put the top services together in this guide.
1. PushNinja by 500apps
The push notification provider PushNinja provides all the information you need. The program was created by 500apps to engage your customers by producing clear push messages. The technology makes use of visual designers, drip campaigns, and robust automation to analyze user behavior data.
You may customize your push alerts with special messaging with PushNinja, and you'll see scale conversions happen more quickly. The program assists you in creating efficient advertisements that cater to consumer demands and are based on consumer behavior. PushNinja can let you engage with clients on a whole new level.
With PushNinja, you have a great price option. You have the choice of the standard monthly or annual pricing plan or the combo option. For just $14.99, you can unlock more than 50 business-related apps with the combination option.
2. OneSignal
OneSignal is a well-known provider of push notifications. If you use OneSignal, you'll be in excellent company because organizations like Uber, Adobe, Conde Nast, and Skyscanner, to name a few, all utilize it.
You can send email notifications, in-app notifications, android push notifications for mobile devices, and web push notifications setup. If you want to use mobile apps to send online and mobile push notifications, OneSignal is the best choice.
Our mobile apps are deeply integrated with OneSignal when we develop them for news publishers, online enterprises, and eCommerce brands. As a result, our users have the freedom to deliver push alerts as they see fit.
3. Google Firebase
Google Firebase allows you to send Android Push Notifications to app users and has a tonne of other capabilities.
It's simple to use and delivers on its promises, like some other Google business products, but because it's not specifically made for push notifications (unlike some of the other push notification services described here), you should expect certain sacrifices.
4. PushBots
One reason is that it is completely automated. Even though there will be occasions when you must manually push out notifications, this program enables you to streamline a lot of the process.
Another notable strength of PushBots is that its data are comparable to those found in Google Analytics.
5. Leanplum
Leanplum offers a wide range of audience communication options, including email marketing, push alerts for mobile devices, app inbox messaging, and more.
It's one of the top platforms for mobile marketing and provides a full toolbox with everything you'll need to scale a productive push notification campaign.
Conclusion
These push notification service providers are some of the best for supporting your push notification campaigns. You may increase client retention, sales, and engagement by using the appropriate tool and having a sound strategy.
#1
Access Multiple Websites
#2
Drip Sequence Automation
#3
Create messages, notifications, reminders using built-in templates
#4
Increased Visitor Traffic
#5
Effective Audience Classification
#6
Scheduled and Automated Messages
#7
Extensive Data Analysis
#9
Unbelievable pricing - the lowest you will ever find
#10
Everything your business needs - 50 apps, 24/5 support and 99.95% uptime
Join the SaaS Revolution
All-in-One Suite of 50 apps

Unbelievable pricing - ₹999/user

24/5 Chat, Phone and Email Support