5 Browser Custom Notifications Tips to Follow in 2022
5 expert custom notifications tips that enable you to send high performing browser push notifications that boost engagement, exposure, and traffic.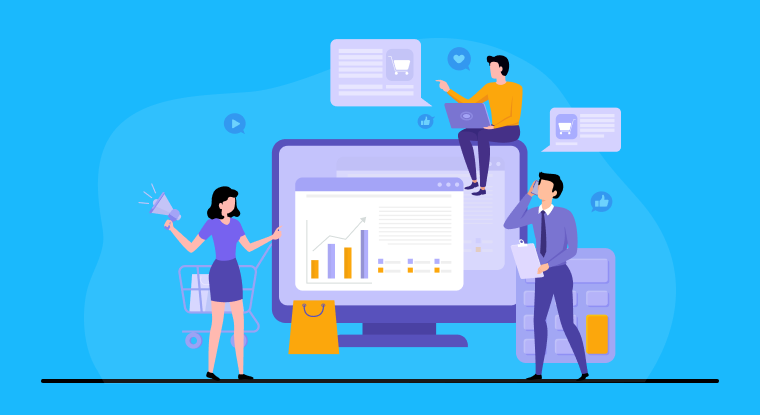 Consumers have never had more power at their fingertips. With the press of a button, they can search for the best natural shampoo and have 100,000,000+ results. This level of competition is not exclusive to the natural shampoo industry. To stand out from the crowd you have to deliver something unique -- something not everyone else is willing and/or able to deliver.
Though they've been around for about a decade, web notifications, or Web Push Notifications, are still fresh and innovative in digital marketing.
Why, after a decade, are web notifications still considered innovative? Because many brands have yet to take advantage of them. They're not quite wide enough to be "old news."
Custom notifications offer a host of benefits. With personalized push notification, you can boost user engagement, site traffic, and even customer (or client) retention.
Automated Push Notifications Are the Secret to Successful E-Commerce
Of course, there exists a dark side to custom notifications. Too much of anything can be a bad thing, and custom notifications are no exception to this rule.
So, whether you're new to browser push notifications or you're just looking to stay up-to-date on push notification best practices, keep reading for five tips to boost your marketing efforts.
Five Tips for custom notifications That Won't Annoy Your Users
In order to be effective, a browser notification has to immediately grab the user's attention, much like a headline for an article or the subject line of an email.
" Headlines are the first thing that people see when it comes to your writing," says digital marketing guru Neil Patel (https://neilpatel.com/blog/write-irresistible-headlines/)." They will either grab the attention of readers and site visitors or bore them. That's why you need to get them right. Your prospective customers will make their first impressions about your brand from them."
The same thing is true for custom notifications. Users will either enjoy your push notification for website and click through, or they'll ignore it and likely turn off your notifications and never visit your website again.
You only have a line or two of copy to work with, and your goal is to use those one or two lines of copy to convince users to click through to your website. And, while it may seem like an impossible task to surmount, the following tips from the experts at 500apps will have you mesmerizing users in no time at all.
1. Create a Sense of Urgency
This tactic utilizes the power behind the popular FOMO acronym, which stands for Fear Of Missing Out. The concept behind this acronym is that users are more likely to click on your link if there's a chance they'll miss out on something special or rare.
Including time-sensitive deals in your headline can induce FOMO, as well as implying that you have exclusive information that can be found nowhere else. The chance of missing out on this insider information will get the best of your users and force them to click through to your website, if for no other reason than to see what all the fuss is about.
2. Use Ultra-Specific Data
Using specific numbers or data points in your push messages or push notification headline or copy is another excellent way to intrigue users to click through to your website. This tip, along with creating a sense of urgency(#1) and using unique headlines(#4) are all part of Melanie Duncan's invaluable 4-U Formula.
" This kind of headline is popular because it works; we as readers like the specificity of knowing exactly what we're going to get,"* says Duncan. " The best headlines also go beyond that to be even more specific. They're not just foods you shouldn't eat, but *common foods. Not just date night ideas, but at-home date night ideas. (Notice the urgency in these as well.)"
3. Pique the Reader's Curiosity
Taking advantage of a reader or user's curiosity works so well that it almost feels like cheating at times. We're all suckers for a secret.
" If you offer up insider information, readers won't be able to resist," says Patel. "Their curiosity will get the best of them, and they'll have to read your post to find the answers."
The trick is in the words you use, and Patel gives us some pointers on buzzwords to include that are sure to pique users' curiosity:
" You can ... pique readers' curiosity with a headline like 'XX Secrets of (Blank).' Everyone will want to know the secret. Who doesn't want insider information? 'What Everyone Ought to Know About (Blank)' is also a great way to challenge readers to find out exactly what they're missing out on."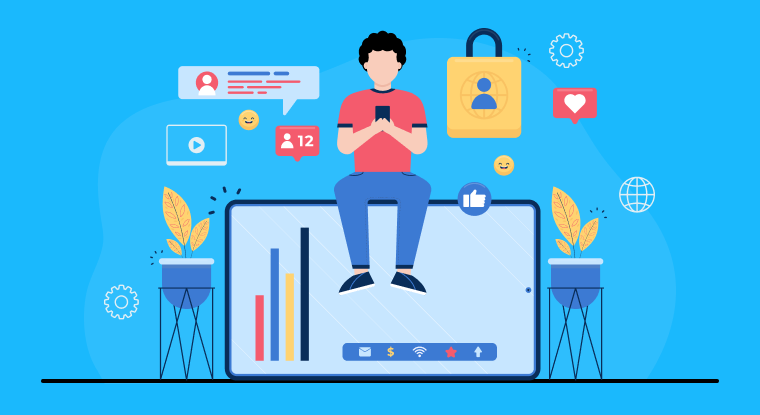 4. Use Unique Headlines
It's common for content creators to struggle with this one. Being unique can be hard sometimes. After all, much of the content we absorb each day is so similar that it can be difficult to think outside the box.
In order to grab a user's attention, however, you have to stand out from the hundred other things vying for their attention.
Headlines that are unusual or that include words considered taboo often outperform monotonous headlines that play by the rules.
Examples can include:
How to persuade readers without being a prick
How to manage your team without being a jerk
Seven Dangerous Content Marketing Hacks
10 Mind Control Hacks for Marketers
Anything that will help your mobile push notifications stand out should be considered. It's okay to go against the grain sometimes. (Just don't go against company policy!)
5. Consider the Buying Decision Process
The buying decision process consists of five phases that offer a rough representation of the process a buyer goes through before, during, and after a purchase.
Sending notifications to someone at the wrong time can cost you that customer for life. Consider where they are on the buying decision process and speak directly to them.
The Five Phases of the Buying Decision Process are:
Recognition of a problem, need, or desire
Information search
Evaluation of possible solutions
Purchase
Post-purchase behavior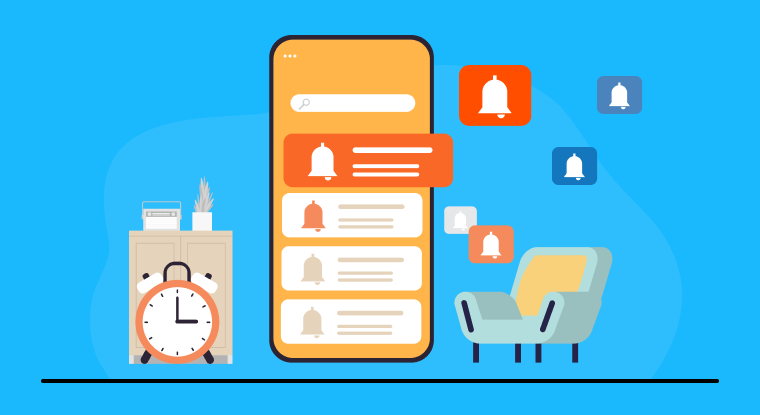 It goes without saying that proper consumer research is an integral part of successful content marketing, and this includes custom notifications. With that information in hand, create notification headlines and copy with push notification software that speak to the user where they are. If a user isn't ready to buy, don't push the sale on them with content that's more suitable for someone that is ready to buy.
Consider your users' needs and current mental state when you create custom notifications. And for crying out loud, be sure to segment and target your audience!
Conclusion
Leveraging custom notifications can be incredibly lucrative when done right. It can help boost brand exposure, discover new demographics, collect invaluable data for future optimizations, and of course, improve customer engagement. We sincerely hope these tips help you make the most of your browser notification campaigns. If you're in the market for an automated solution that makes custom notifications quick and easy, we hope you'll consider push notification tool PushNinja by 500apps.
PushNinja makes it easy to create browser and push notifications that span various platforms, devices, and operating systems, all from one easy-to-use app. You can test-drive PushNinja free for 14 days by clicking here.
We also encourage you to check out 500apps' suite of productivity-boosting apps that work in harmony to help you run your business like the Fortune 500 by clicking here.
#1
Access Multiple Websites
#2
Drip Sequence Automation
#3
Create messages, notifications, reminders using built-in templates
#4
Increased Visitor Traffic
#5
Effective Audience Classification
#6
Scheduled and Automated Messages
#7
Extensive Data Analysis
#9
Unbelievable pricing - the lowest you will ever find
#10
Everything your business needs - 50 apps, 24/5 support and 99.95% uptime
Join the SaaS Revolution
All-in-One Suite of 50 apps

Unbelievable pricing - ₹999/user

24/5 Chat, Phone and Email Support