5 Reasons You Should Implement Push Notifications on Your Website
Push notifications are an effective way to increase engagement and sales. Here are five reasons why you should implement push notifications on your website.
Push Notifications have become more commonplace in today's society, and with good reason.
Do you want to communicate instantly and in real-time in a personalized way with your website's visitors without needing to possess their personal information? Push Notifications make that happen.
You must have seen something like that on your smartphone notifications, but right now, the ones we'll be focused on are web push notifications. Yes, they differ.
While mobile push notifications come from your already installed mobile apps, web push notifications are sent to your browser and will only ever come up when you open that browser.
They are undoubtedly one of the best tools that have ever been developed for websites. These notifications work better than an email and even an SMS because they immediately grab a user's attention.
It doesn't matter whether you're watching a music video or browsing an article on your computer or phone; once a push notification pops in, attention is diverted to it.
This particular innovation is a holy grail for copywriters as salespeople because it can let you reach people even when they're not using your app.
After getting the notification, what the user does next is entirely up to them — they may decide to click on it if it has interesting info or discard it if uninterested, but that's a different ball game.
How successful a business becomes is ultimately dependent on whether the traffic they pull buys any of their products. This is referred to as converting in marketing, but as we said, that is a different thing entirely.
The most effective and, not to mention, cheap way to get users who recently spent time on your website to come back is by sending push notifications. That's how important they are.
If you're not yet convinced that push notification software is a tool you need to harness to move your business forward, here are some other points we hope can help you make up your mind.
Push Notification keep those who visit your website well informed.
Push notification for website can be used to promote and circulate various topics, but most often, the primary purpose is to attract new visitors or lure old ones back to your website.
This can easily be done by using web push notifications to keep new and old users updated with what is happening on your website, e.g., a new product launch.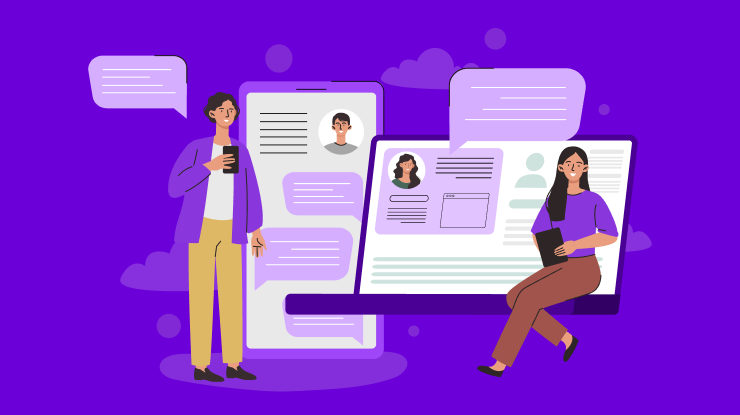 You can use this communication method to remind a specific user about a cart they left abandoned should they exit your site without checking out.
Whether you're trying to promote new content or you're hosting discount campaigns, web push notifications will come in handy and perform better than you can ever imagine.
They can function on any device
You already know web push notifications work on both desktops and tablets or smartphones. It doesn't matter what you're using to browse; a web push notification can still reach you.
If you're using a smartphone or tablet, immediately permit mobile push notifications, they will start showing up just like app notifications. The only system that still doesn't seem to support web push notifications is iOS.
The delivery happens within seconds
In today's world, nobody likes getting their time wasted — it is, after all, a precious commodity. So push notifications are typically short messages that get rapidly delivered to your users.
The character limit of a web push notification always comes across as straightforward and honest. However, where emails are concerned, much editing and rumination are required before hitting the send button.
Web push notification is the best medium for transmitting crucial, time-sensitive, and important information because your texts are delivered in real-time.
If your users are currently connected to the internet, they will get your push messages immediately after you send it.
A high conversion rate is guaranteed
This is because web push notifications immediately grab a user's attention when it pops up on their screen.
In fact, studies have proven that web push notifications produce better results when it comes to custom opt-in and click-through than other marketing methods.
This is because push notification tool only require you to allow permission with just a click. It also allows users to also unsubscribe instantly at their leisure.
Each day, more and more people are turning to this wonderful innovation to generate traffic that will keep visiting your website successfully.
Adds a personal touch to your marketing
Day by day, the number of people who own a mobile phone and or desktop keeps increasing rapidly. This means that your push notifications can reach a larger audience.
At different times in a day, people will check their phones or be on their desktops, and if a message from your website is right there showing interest in them, they will check it out.
By segmenting and sending your messages to a relevant target group, you get a more intimate approach towards those who visit your site.
Some of the Features You Will Enjoy Should You Decide to Give It a Try Include:
Smarter Web Push Notifications:
With PushNinja, you can send notifications with offers or updates that are relevant to each user and increase your chances of engaging them.
Custom Notification:
These help you to multiply customer engagement and site traffic by allowing you to customize your push notifications relevantly and reach the right people.
Templates:
with PushNinja, you can use pre-designed templates to easily reach your audience, expand website exposure, and freely establish a set of customization rules and limits for each template.
There's a lot more where all that came from, but don't take our word for it; try it
Conclusion
Now that you know how important web push notifications are, especially if you're in the world of marketing, it will be evil of us not to recommend a trusted helper that can help you monitor customer engagement and build strong relationships with them.
Many products out there profess they can help you increase customer engagement; however, of all of them, PushNinja by 500apps is the best.
This software can help you engage users with web push notifications, thereby building stronger and more personal customer relationships.
#1
Access Multiple Websites
#2
Drip Sequence Automation
#3
Create messages, notifications, reminders using built-in templates
#4
Increased Visitor Traffic
#5
Effective Audience Classification
#6
Scheduled and Automated Messages
#7
Extensive Data Analysis
#9
Unbelievable pricing - the lowest you will ever find
#10
Everything your business needs - 50 apps, 24/5 support and 99.95% uptime
Join the SaaS Revolution
All-in-One Suite of 50 apps

Unbelievable pricing - ₹999/user

24/5 Chat, Phone and Email Support