Drip Push Notifications: Robust Way to Engage Customers
Drip Push Notifications is the most robust way to engage customers. Send targeted push notifications to your customers, and keep them engaged.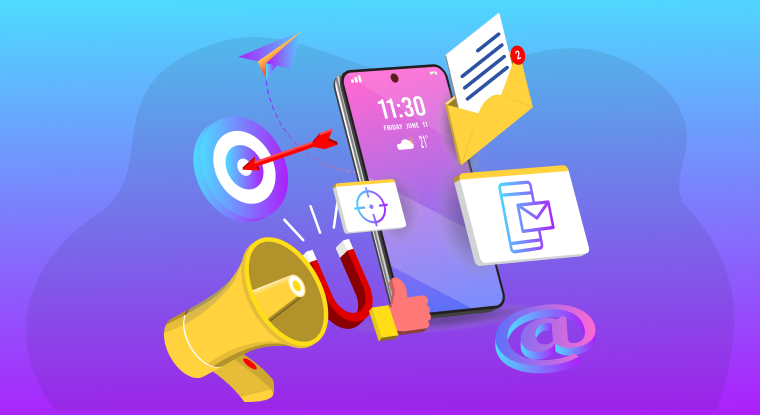 Web push notifications are used to deliver various, usually promotional, messages to users who have opted in to receive them on their desktop and/or mobile browsers. With them, businesses do not need to have a mobile app to engage their web visitors with instant, high-engaging notification-style messages to address and meet their specific needs or interests. With use cases that can range from transactional messages such as confirming that the order has been shipped to promotional messages such as those that inform the users of the latest products and services, web push notifications are something that every website owner and marketer should consider adding to their marketing arsenal.
In case you are looking to start using web push notifications on your website, you are in the right place. This article is the only thing you need to read in order to understand push notifications for the web and how to start using them to reap their benefits. By giving a detailed overview of the benefits that E-commerce businesses and other website owners can get by creating and sending website push notifications, such as optimizing their marketing campaigns and increasing their user engagement and revenue, this article will provide you with everything you need to know about creating web push notification to engage, re-engage and inform your customers in a proactive, quick, and personalized way.
What are Web Push Notifications?
As there are many different ways how push notification for website can be used, there are also many different definitions of what exactly they are. In simple English, web push notifications are notifications that are sent to the user either via desktop or mobile website browser. They are short alert-style messages that appear in the top or bottom right corner of a desktop screen or in a nearly identical way as app push notifications appear on a mobile screen. These notifications are delivered anytime the end-user has their browser open regardless of them being on the website or not.
Web push notifications are notifications that can be sent to a user via desktop web and mobile web. These are alert-style messages that slide in at the top or bottom right-hand corner of a desktop screen, depending on the operating system or appear on a mobile device in a manner nearly identical to push notifications delivered from apps. Web push notifications are delivered on a user's desktop or mobile screen anytime they have their browser open — regardless of whether or not the user is on the website. Sometimes called Browser Push Notifications or simply push notifications, you can send them the moment you integrate them in your website. You can even build your own push notification tool or, in case you want to save time and create more advanced and personalized web push notifications, use some of the available services on the market, such as this one.
The Anatomy of Website Push Notifications
Once you have added the code for web push notifications to your website, you can start sending your push notifications to everyone who agrees to receive them. In other words, web push notifications are a permission-based messaging channel meaning that you have to ask your website visitors for approval before you can send the custom notifications to them. As you can see on the picture below, the opt-in prompt that asks the users for their approval comes directly from their active web browser. This opt-in prompt is sometimes also called a browser-level opt-in prompt or browser-based prompt and website owners can customize every part of it such as the design, copywriting, and call to action.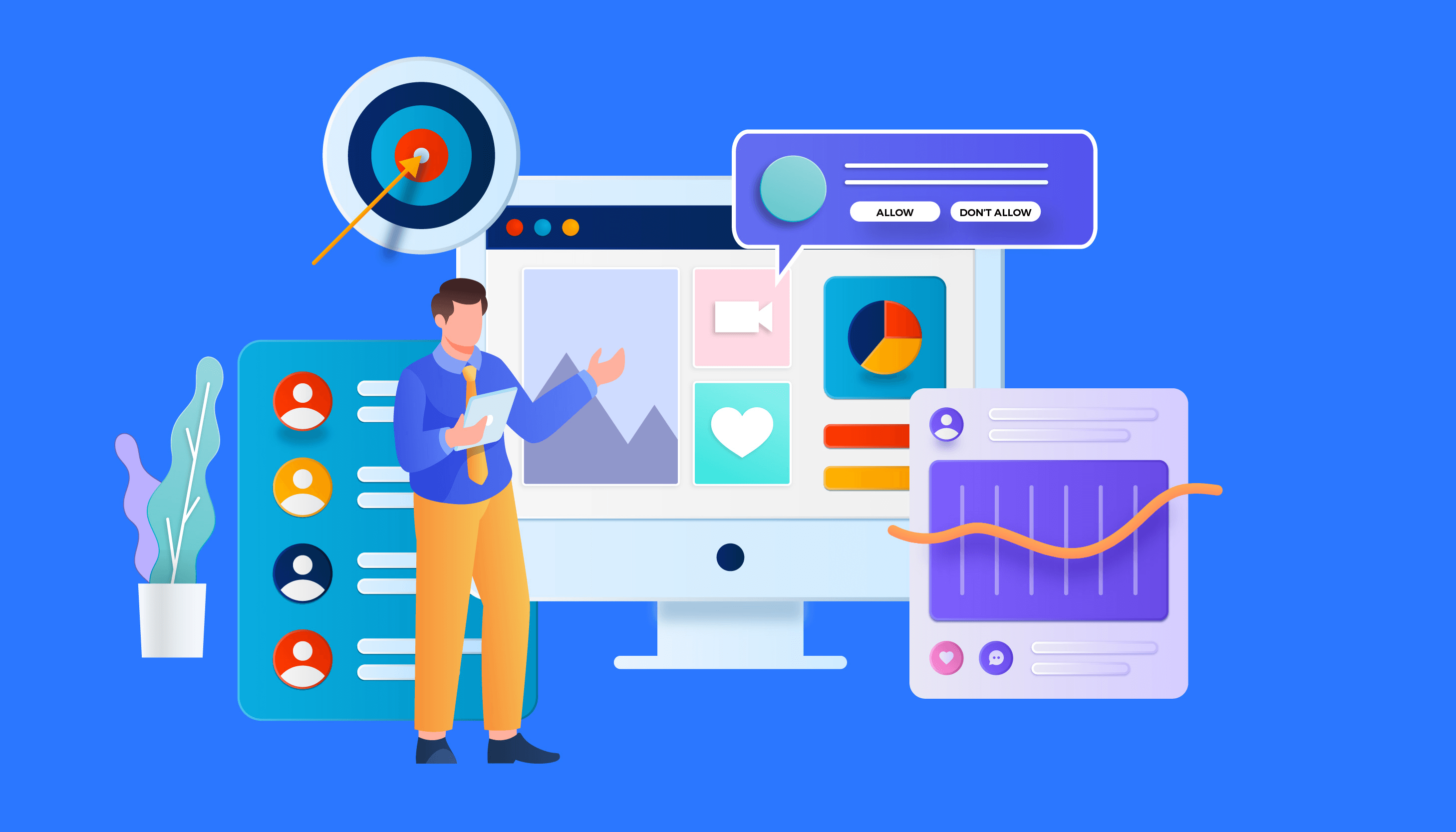 Additionally, website owners who decide to use some of the available solutions on the market get immediate access to web push notifications that follow some of the best practices on the market such as behavioral segmentation, campaign reports, and drip campaigns.
Although web push notifications can vary in appearance based on the operating system or the web browser the end-user is using, a typical web push notification consists of the following elements:
Title – usually a website or brand name

Content – the push messages sent to the user and the length of which depends on the browser (the shorter the better)

Icon – usually a website or brand logo but it can be any other relevant image

Browser icon – the logo of the browser which is being used to receive the notification (this icon cannot be removed or altered)
The reason why website push notifications vary in appearance on different operating systems and browsers is that some of them use native notifications centers while others don't.
Supported Browsers and Devices
Currently, all of the most popular web browsers support web push notifications. These include Chrome, Firefox, Opera, and Safari. The important thing for those wanting to use an already available solution for web push notification is that browser support can vary by the vendor so make sure you check the list of supported browsers before purchasing the service.
Although almost all computers and laptops, no matter Windows or Mac, that have installed some of the supported browsers, support website push notifications, not all mobile devices support them. iOS (Apple) mobile devices currently do not support website push notifications. This means that your website visitors who have an iPhone or an iPad will not be able to receive your mobile push notifications even if they have a supported browser installed. The good news is that we've seen Apple change its guidelines, which now allow mobile apps to advertise with push notifications. Although we haven't heard from Apple for a long time, there is a lot of speculation about web push notifications will become available on iOS devices in the near future.
Benefits of Web Push Notifications
Based on everything we listed above, it´s obvious that web push notifications have become a powerful and effective marketing weapon for any online business regardless of their industry. Email marketing and SMS marketing open rates are declining as more and more users are finding them generic and annoying, meaning that push notification service, when put in use wisely, can give your business an easy and automated way to reach out and interact with your audience. What´s more, they can add immense value to your business. Below, we will discuss the 5 major benefits that web push notifications give to your business.
1. Increased Conversion Rates
One of the main benefits of creating and sending web push notifications is an increase in your conversion rate. You can create web push notifications that allow your users to subscribe to specific products and services. By doing this, you can target these users anytime there is specific news about these products and services, such as a specific discount, stock availability, or related products and services. Since the subscribers are notified the moment the change to the products and services they are interested in becomes available, there is a higher chance for them to become interested and take a specific action such as opening the website and making a purchase. The subscribers will be notified as soon as the changes reflect in the website regarding the product. Notification related to the fall in the product price or the product back-in-stock creates higher chances of conversion.
2. Increased User Engagement
By creating and sending web push notifications, you can send your website users messages about some of your old content pieces or notify them about new content and products they are interested in. Yes, you can do the same thing using some of the older marketing channels such as email but using push notification app you are making an instant impact and you are doubling your chance of engaging your user. According to Adweek, web push notifications have an almost double open rate and much better Click-Through Rate (CTR) than email marketing. Furthermore, 82% of customers find a business´ trustworthiness more important than a year ago.
Customer engagement will never be the same.

Eighty-two percent of customers agree a company's trustworthiness matters more than it did a year ago. (And other research findings.)https://t.co/s9mhvpwafC pic.twitter.com/1dnD3YZARM

— Vala Afshar (@ValaAfshar) October 27, 2020
3. Improved Retention Rate
While most businesses see their growth through the acquisition of new customers, research says that they should focus on their existing ones, as well. According to the research from Harvard Business Review , acquiring new customers is from 5 to 25 times costlier than keeping your existing customers. Web push notifications through push notification tool can be a powerful way of engaging and keeping your old customers interested in your offerings. Being able to successfully get pass the increasingly popular ad-blocking tools, marketers can create web push notifications using a wide range of settings and personalize them for each and every customer segment thus significantly boosting the engagement and retention rates.
4. Personalized Targeting
Although your products can be similar or used for a certain task, such as outdoor equipment, the chances are that customers who purchase them are completely different. They vary in gender, age, location, but they can also vary in the type of equipment they are interested in or only in a specific brand in case you offer multiple brands. By creating and sending web push notifications that are customized in push notification software based on a specific age group or type of product, you can significantly increase your open rate and, in the end, your conversion rate.
5. Improved Customer Journey
Same as your customers have different interests or demographics, they can also be in different stages in their customer journey. The best thing about web push notifications is that they can be created and sent to your customers during each and every part of their customer journey to improve chances of them moving to the next step and ultimately, making a purchase. For instance, customers who are in the awareness stage can receive notifications about new product launches and discounts. Those who are in the consideration stage often need to be thoroughly convinced about your offering before they say "yes" and web push notifications offer you the chance to convince them in an easy and personalized way with the highest open rate of all marketing communication channels.
How to Start With Web Push Notifications?
While it is possible for website owners to create web push notifications by themselves, most marketers and business owners use some of the available push notification providers on the market. Doing this, not only allows them to save time but also gives them access to advanced features such as automated campaigns and instant support for new browser versions as they become available. Therefore, in this chapter, we will give you a quick and easy way on how to create web push notifications with PushNinja.
When you start using PushNinja, you will get access to a detailed and eye-pleasing dashboard that will not only give you a way to create web push notifications but it will also allow you to keep a close eye on important metrics such as a number of visits and CTR.
To create a web push notification, just navigate to the "Send message" window where you will be able to create your web push notification using an intuitive and easy-to-use menu. From here, you can create welcome messages, opt-in messages, and other types of personalized push notifications.
Additionally, PushNinja will allow you to send your customers a series of pre-scheduled or action-triggered messages over time to nudge them to take a specific user journey, create memorable user experiences, and automate personalized engagement at scale.
Last but not least, with PushNinja and its advanced push notification analytics, you will be able to get more out of your notification data in order to make better business decisions further improve your future web push notifications and increase your engagement and conversion rates even further.
Conclusion
Looking at the benefits that web push notifications give to website owners, they are undoubtedly becoming one of the most effective methods to communicate with your customers in a personalized and timely manner that has a double open rate as classic marketing channels such as email.
And while anyone can create web push notifications by themselves, in order for them to deliver tangible results and ensure browser support, they need to be constantly optimized which can be time-consuming and negatively impact both your delivery and click-through rates.
PushNinja by 500apps is a powerful solution that allows you an easy and intuitive way to create personalized and attention-provoking web push notifications that help you significantly increase your user engagement, retention, and conversion rates.
#1
Access Multiple Websites
#2
Drip Sequence Automation
#3
Create messages, notifications, reminders using built-in templates
#4
Increased Visitor Traffic
#5
Effective Audience Classification
#6
Scheduled and Automated Messages
#7
Extensive Data Analysis
#9
Unbelievable pricing - the lowest you will ever find
#10
Everything your business needs - 50 apps, 24/5 support and 99.95% uptime
Join the SaaS Revolution
All-in-One Suite of 50 apps

Unbelievable pricing - ₹999/user

24/5 Chat, Phone and Email Support