Should Your Business Be Implementing Push Marketing?
Implementing Push marketing can be used to generate leads and increase sales. Learn how it works and if it's right for your business.
Probably you've thought of implementing push marketing in your business website, but you're not sure whether it will work for you. This post takes a look at how push marketing works, and it will help you decide whether this is the direction you should take. By the end of this brief, you should be in a better position to decide if push marketing strategy is what your business needs to encourage your audience to buy from you.
What is Push Marketing?
Also termed as push promotional strategy, push marketing refers to companies presenting their products/services to their clients. A company using this marketing strategy aims to """"push"""" products/services to the point where customers decide to buy from the company. Usually, the goal of push marketing is to reduce the time taken by a customer to determine if they will buy a product/service.
Another goal of push marketing is to increase product awareness. For instance, if there are specific product updates you wish to inform your customers, you can use the push marketing technique. You can also use this strategy to inform them about upcoming product offers, discounts, promotions, etc. Generally, this marketing approach is to make your customers aware of your brand, what you offer, and some of the benefits they can get from you.
Although companies use their marketing strategies to nurture relationships and create awareness, push marketing is somewhat different because it seeks to push for immediate action from the customers or prospects. This is a distinguishing factor that makes push marketing different from pull marketing. The latter strives to establish brand identity and build brand loyalty among customers.
Top Reasons Why Push Marketing is Important
Better Engagement with Your Customers
There is no doubt that marketing creates an opportunity to continue engaging with your customers. The customer engagement aspect here refers to the way you can keep your customers informed about your products or services. Think of this 'engagement' as a way of talking to your customers about what they need to know about your products or services.
Push marketing allows you to take your products or services to your clients. You don't have to wait for any action from your end-users. For example, if there are new changes in your product, push marketing keeps your clients updated. You take the information to them before they even think about whether or not they should depend on your products. So, in a way, this leads to better engagement.
Build and Maintain Your Brand's Reputation
Your brand's reputation is your customers' or prospects' perception of your business. They will put your brand first if they like what you offer. Anytime they think of shopping online, your brand is the first thing they think about because you're always engaging with your clients.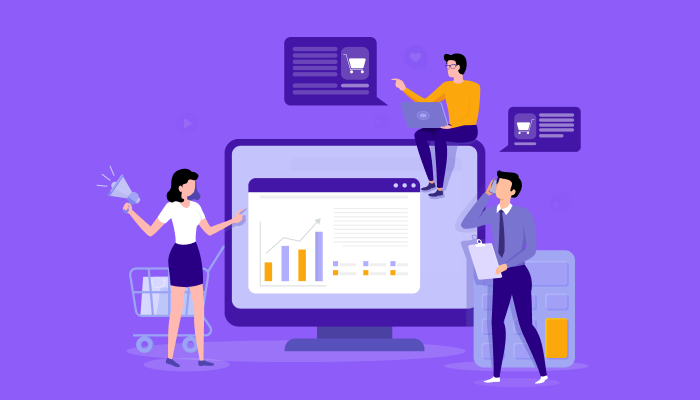 Push marketing presents you with an opportunity to continue selling to your audience. This approach gets the message out there that you offer something important or that your clients should take advantage of any promotions you have. Consequently, you can leverage this opportunity to build and maintain your brand's reputation. Talk to your audience about the benefits they could enjoy if they took advantage of the wonderful offer. Give them reasons why your offers stand out, and they will want to take action and buy from you.
Create Awareness Right Away
When you want to present new offers to your clients, it's always good to create awareness immediately. Inform your customers that there are amazing offers that would help them cut costs. Tell them that your offer is expiring soon and using this opportunity would be great. Clearly, push marketing enables you to create awareness about your brand. There is no better way to ensure you trigger the right action from your audience other than using push marketing.
Increase Your Sales
The number one reason you market your products/services is that you want to increase sales. If your marketing strategies are effective, you can be sure to get more sales. Now bring push marketing into the picture here. Since you are working on delivering your message to your customers, you aim to get more sales for the products you market. It's that simple.
Get Better Insights About Your Company
Say you were using push marketing to promote certain products you recently introduced into the market. If your customers find value in your product, they will take action and buy. On the contrary, if they don't see anything good, the chances are that they will not buy. How your customers respond to these products can provide insights into what needs changing or improving. The information you gain can push you to optimize your products for better returns on your investment.
Know Where to Invest
Another reason push marketing is good for your business is that it allows you to discern your best investment options. If certain channels don't generate good returns, they should signal that they are not the best places to put your money. Conversely, if you generate returns using certain sales channels, you can invest more money there.
Should You Use Push Notifications Software?
To ensure you benefit from push marketing, you need to use push notification software. The trick to getting your clients to take action on your marketing messages is by appealing to them. So, it would help if you created intuitive push messages that sell. This is what PushNinja is all about. This software allows you to curate appealing messages using a visual designer. You can also run drip campaigns and evaluate customer behavior data to understand their tastes and preferences. PushNinja allows you to identify behavioral triggers that drive powerful engagement. For instance, you can push your customers not to abandon the items they added to their carts or the emails they dropped on your Forms.io page. Therefore, this is a tool that will ensure you maximize revenue while at the same time increasing traffic to your site.
Final Verdict
That said, our verdict is that push marketing will indeed benefit your business in many ways. Think of it as a specific marketing approach meant to drive more sales and increase your brand awareness.
#1
Access Multiple Websites
#2
Drip Sequence Automation
#3
Create messages, notifications, reminders using built-in templates
#4
Increased Visitor Traffic
#5
Effective Audience Classification
#6
Scheduled and Automated Messages
#7
Extensive Data Analysis
#9
Unbelievable pricing - the lowest you will ever find
#10
Everything your business needs - 50 apps, 24/5 support and 99.95% uptime
Join the SaaS Revolution
All-in-One Suite of 50 apps

Unbelievable pricing - ₹999/user

24/5 Chat, Phone and Email Support