What are Push Alerts?
Increase reach, revenue, re-target users with Web Push Notifications on desktop and mobile.
Given that millions of people are using their smartphones today, businesses have turned this to their advantage by using push notifications. Companies have found this as an ideal way of sending their campaigns. Using push notifications is preferred to engage with clients because they push customers to take immediate action. Unfortunately, the increased use of push notifications has also contributed to rampant misuse. People can quickly get frustrated with these notifications, especially if they are irrelevant or sent at the wrong time.
It's important to know how to correctly use push notifications instead of ruining the experience your customers enjoyed while browsing through your site.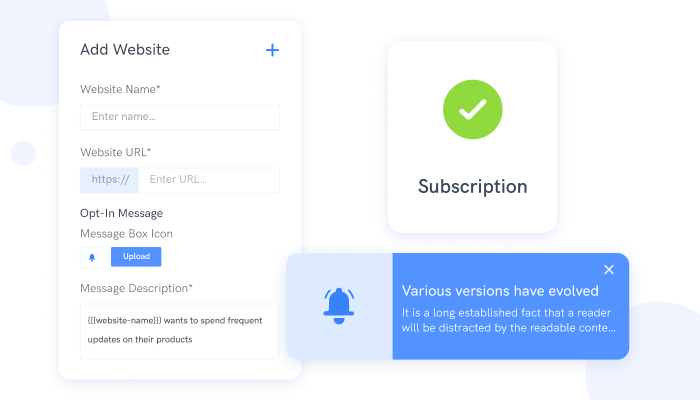 What Are Push Notifications?
Before looking at how you can use push alerts the right way, let's define these alerts.
Simply put, push alerts are notifications that pop up on your desktop, laptop, or mobile device when browsing any given website. You've probably interacted with these alerts at some point if you've been using the internet lately. The small slide banners pop up to prevent you from further accessing content. The alerts can also appear on your mobile device when using certain applications.
Importance of Push Alerts
While push notifications have been there for some time now, businesses are slowly getting the hang of how these notifications are essential. Think about it, when your customers are using their mobile devices, they get push alerts informing them about special discounts or offers they should take advantage of. Often, these alerts are optimized depending on the customers' needs and preferences.
Businesses should use these notifications to their advantage bearing in mind that most customers have enabled the push alerts on their devices. Using them the right way guarantees that your campaigns reach your intended audience. So, one reason to use these alerts is that it allows you to reach your audience conveniently, whether on their mobile devices or on desktops.
What's more, push alerts are highly engaging since they are optimized depending on customer interests. Therefore, your marketing messages are more likely to lead to increased conversions and better ROI. In turn, these perks also contribute to increased traffic to your site.
Things to Avoid When Using Push Alerts
Using push alerts will transform your business; however, this only happens when you use these notifications correctly. Here's a look at things you should avoid when using push notifications.
Advertising Other Products
You want to market your products/services. Therefore, it won't make sense to your customers when you market other products. Use another promotional channel if you have other products/services you wish to introduce to your clients. The last thing you need is to confuse your customers.
Sharing Irrelevant Messages
Understanding your customers' tastes and preferences should be prioritized even before using any push notification software. For example, you may use PushNinja to send push alerts to your clients. However, you should invest your time in knowing your clients first. Luckily, PushNinja allows you to analyze user behavior before reaching out to them conveniently. The insights you get here give you how best you can approach your clients.
Push alerts will interrupt your customers briefly before they can continue browsing. Use this opportunity to capture your customers' attention and not to annoy them. It's annoying to interrupt their browsing experience only to ask for reviews. This creates a negative image of your brand. In addition, you risk losing your clients since the alerts are just irrelevant. Instead, focus on sending relevant and actionable content.
So, to ensure you use push alerts correctly, consider using PushNinja software. The software's diverse functionality ensures you increase user retention, provide timely updates/news, reduce abandoned carts, and showcase new content, among other benefits.
Conclusion
It's worth investing in push notification software for your business. With most people using their mobile devices to access the internet, you can use this to your advantage. Besides increasing traffic to your website, you can also use this platform to inform your clients about any product updates, offers, promotions, or any discounts that could interest them. In addition, push Ninja gives you a deeper insight into your customer behavior. So, expect a considerable boost in your customer service experience.