What Is Push Notification Software?
Engage customers by creating intuitive push messages using visual designer, running drip campaigns, analyzing user behavior data through powerful automation.
Push notifications have indeed been around for quite a while. However, many advertisers and publishers are still trying to catch on to the benefits of push notifications. Most of you may not know about push notifications. But you will be surprised to see that you use it almost every day several times.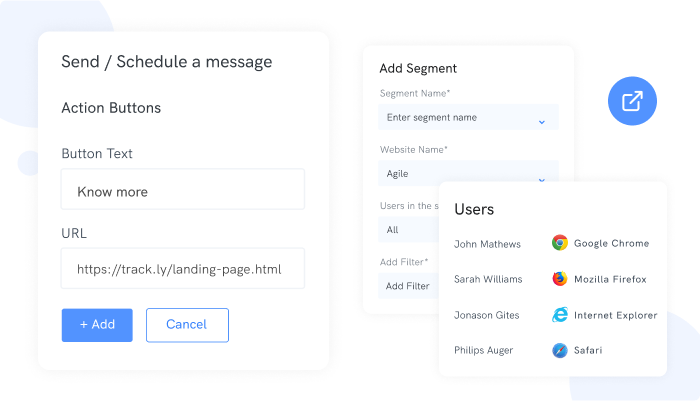 If you use a smartphone, you are used to getting push notifications many times every day. However, although you use it daily, many do not know that it is a push notification. For example, every time you receive a special offer from any specific business or an update on your package delivery, you receive a push notification.
What Are Push Notifications?
Businesses send messages to their users that help them build audience relationships, get their users to use their smartphones more often, drive revenue. These messages are push notifications. A push notification message needs to grab users' attention to gain maximum user engagement. This is possible with a quick and to-the-point alert followed by a call to action.
These personalized messages work differently on desktop browsers or mobile devices. Nonetheless, their purpose is the same, which is to engage users with the help of push notifications. Both varieties of opt-in communication require users to agree or sign in manually to receive such alerts.
What Is A Push Notification Software?
A push notification software helps an organization or a business send direct messages to their consumers on their mobile devices or computers. For example, an organization's marketing team uses such software to share a particular call to action. This can be crafted within the push notification service and forwarded directly to a customer's handheld using a mobile application, web browser, or desktop application.
Benefits of Using a Push Notification
There are numerous benefits of using push notifications for a business. Some of the most significant benefits are discussed below.
Reach Users When and Where They Want There may be times when businesses need to reach their users to share some special offer, story, or breaking news. Push notifications are the best ways to fulfill such requirements for any business. In addition, with the help of such notifications, you can also share customized content with your users.

Engage Consumers with Systematically Organized Content It will not be wrong to say that push notifications are similar to emails. Both modes of communication are direct-to-consumer. You can also send systematically optimized content per each consumer's behaviors and preferences.
PushNinja – The New Age Push Notification Software
There are several types of push notification software in the market. Although all of them provide similar services, there may be certain features different in each. If you wish to use a complete push notification software for your business, then a great option is PushNinja.
It does not just help you engage your consumers with creative and intuitive push messages; you can also use the software to analyze your consumer behavior and create data. PushNinja helps run drip campaigns to help you in your business.
Features of PushNinja
PushNinja is one of those few push notification software with features useful in all types of business. Some of the critical features of this fantastic software are discussed below.
Web Push Notifications
This is a somewhat helpful feature of PushNinja that allows you to build stronger customer relationships using mobile and desktop browser push notifications. You can easily send personalized push notifications that reveal essential updates and offers to your users. If you can send relevant messages to your consumers, you can quickly increase the possibility of better consumer engagement.
Personalized Notifications
This feature of the PushNinja software is rather crucial for boosting consumer engagements. You can deliver high-quality, relevant content that can help drive more online traffic to your business website. It can also help increase your annual revenue and sales by sharing unique customized messages per your users' individual needs.
Drip Campaigns
This feature allows you to send an automated notification to your users that will help you re-engage with your audience. You can automatically send a sequence of web push notifications and receive higher conversions and click rates with drip autoresponder and triggers. In addition, you can categorize your audience as per their individual interests. This will help you maintain your consumers and help them stay at par with the latest news or trends.